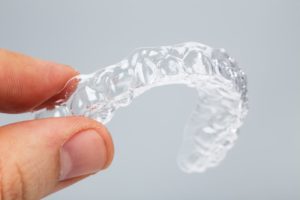 Many people want to fix gaps or misalignment in their smile, but don't want to go through the process of wearing metal braces for long periods of time. To them, there's already too strong of an association with teenagers and braces, so it simply feels like a lost cause. With that being said, what if there was a way to get straighter teeth without the need for metal braces at all?
Invisalign in Hamden can get you a straighter smile in less time on average than braces without having to change your appearance. The next question is, how much faster?
The Average Treatment Time with Invisalign
The length of treatment time can vary based on a few different factors. However, the largest factors include the complexity of your treatment and your dedication to wearing the aligners. According to Invisalign, the average treatment time needed for completion is about 12 to 18 months. Keep in mind that results of a straighter smile often appear sooner than this, even before treatment is complete. Plus, this treatment time is much shorter than what is typically expected with traditional braces.
On average, patients need to wear braces for at least 18 months before any results can appear. However, just because you have gaps in your smile or a poor bite doesn't mean you should be forced to settle for braces. With Invisalign, you won't need to visit the dentist as often since you're able to progress through the regimen by moving on to the next pair of aligners.
Tips to Consider During Treatment
It's true that you won't need to visit the dentist as often, nor will you have to make significant changes to your diet or brushing habits to accommodate aligners. However, you should know that the amount of time spent wearing your aligners will not go unnoticed. Every six weeks or so, the dentist will examine your mouth to confirm that shifting is happening appropriately. If you haven't been wearing your aligners for at least 20 to 22 hours per day, the dentist will notice.
This is why Invisalign is not usually recommended for younger patients. Adults tend to care more about not making changes to their appearance as well as committing to wearing aligners more often.
Caring for Your Aligners
Finally, with any orthodontic care, there is some level of maintenance that is required, albeit not nearly as demanding as traditional braces. To keep your aligners in the best condition possible and prevent any hiccups in treatment, take note of the following:
Rinse and sanitize your aligners twice a day. A good time to do this is before your brushing routine.
Purchase a dedicated toothbrush for cleaning loose food debris and plaque from your teeth and gums.
Avoid using scented or colored soaps, toothpaste, or very hot water to clean aligners. You don't want to scratch or warp them in any way.
Always keep them in their protective case when not in use. Remove them any time you're eating, chewing gum, or drinking fluids other than water.
When traveling, keep them physically on you. This can be either through a carry-on or personal bag that won't get lost, unlike checked luggage.
Ready to see if Invisalign is right for you? You can schedule a consultation today to get started!
About the Author
Dr. Robert M. Pantera earned his dental degree from the University Connecticut School of Dental Medicine. Since then, he's pursued training for multiple cosmetic treatments to help patients improve their smile, including through Invisalign. To learn more about his practice, contact him through his website.