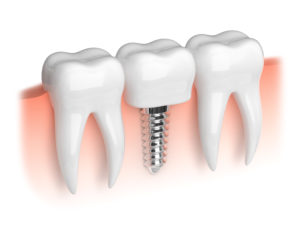 Dental implants have been booming in popularity over the past decade and are now well-regarded as the most successful method of tooth replacement in healthy adults. Of course, they also represent a larger investment than non-implant retained options like a traditional denture or fixed bridge. But what is the exact cost of dental implants in Hamden? The answer is, it depends. Keep reading to learn more about the factors influencing the price of dental implants, and how you can find out just what yours will cost!
Why Do Dental Implants Cost So Much?
Dental implants come at a higher price than other options in tooth replacement due to several factors. Some of these include:
Surgery: Dental implant placement is an oral surgery, which requires anesthesia and an expert team. Plus, you may need to have a preliminary bone graft or sinus lift to create the proper environment for dental implants.

Materials: Dental implants and the tools used to place them are made of only the highest-quality materials. Patients who need alternatives to metal or titanium due to allergies may have to pay more for these accommodations.

Numbers: Dental implants are priced individually, meaning the extent of your tooth loss will have perhaps the greatest impact on the cost of your procedure.
How to Get a Proper Estimate
There is no fixed price for dental implant procedures, which makes it very difficult to provide an estimate for yours over the phone. The only way to get a good idea of what yours will cost is to schedule a consultation with an implant dentist. Once you have a good idea of what you should expect to pay, you can begin considering ways to make dental implants fit into your budget.
Affording Dental Implants
No matter the cost of dental implants, they are well worth the investment, and there are several ways to go about making them more affordable. Dental insurance will usually not cover the cost of the dental implants themselves, but you may be eligible for some savings on certain aspects of the procedure — like a bone graft or the crown, denture, or bridge. Third-party financing through groups like CareCredit can also help by allowing you to make smaller, more convenient payments on a large bill.
Talk to your dentist about how you can make dental implants a possibility for your budget. It's worth the effort! This tooth replacement option can help you enjoy superior stability and a long-lasting, healthy smile.
Meet the Practice
D'Andrea and Pantera, DMD, PC, offers comprehensive dental care from the comfort of their state-of-the-art office in Hamden, CT. Patients who have lost teeth can benefit from the wonderful implant dentistry services provided by this team of experts. To learn more about dental implants or to find out what yours might cost, go ahead and get in touch with their office by calling (203) 288-0951.