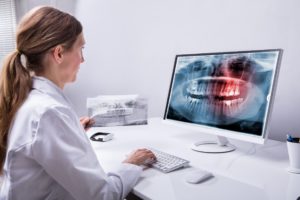 New advancements in technology transform all aspects of your life. Why should your dental care be any different? The latest innovations in dentistry enhance your comfort and the services you receive when visiting your dentist in Hamden. Now, you can enjoy more relaxed and convenient procedures while also improving your oral health with more precision diagnosis and treatments.

Advanced Dental Technologies
New dental technologies focus on delivering better patient care to promote positive results. Due to new developments, it not only enhances your satisfaction, but it also allows your dentist to preserve your teeth for longer than before. With the ability to detect oral diseases sooner, intervention is quickly provided to restore your dental health. Treatment plans are created with precision to offer less invasive procedures that are more effective.
When it comes to the health and appearance of your smile, you should not have to choose outdated equipment and methods. Instead, you deserve to benefit from the best through all aspects of your dental care. When choosing a modern dentist, you will discover many new state-of-the-art technologies to enhance your experience.
Digital X-Rays
X-rays play an invaluable role in your dentist's ability to monitor your dental health. In the past, it required biting on an uncomfortable film strip and waiting for the images to develop. Now, you can enjoy a comfortable and quicker process using a fraction of the radiation compared to past methods. A special camera is used to quickly scan your teeth. The images can be viewed instantly on a screen to allow your dentist to see every detail in your mouth.
The Wand® Sta®
No one likes needles at the dentist. What if there was a less uncomfortable way to numb a treatment area? Now there is with The Wand® Sta®. The computer-controlled system uses advanced injection techniques to numb a single tooth more effectively. This reduces the risk of uncomfortable lip and tongue numbness that occurs using past methods. Your treatment can also begin immediately because the anesthetic works faster.
Benefit from the Best
With the value of the latest advancements in dental technologies by your side, you can significantly increase the quality of care you receive from your dentist. Through improved efficiency using integrative systems, you will spend less time in the dental chair without having to compromise the health of your teeth or gums.
Get the high-quality care you deserve. Choose a modern dentist who embraces the latest technologies in dentistry.
About Dr. Ronald J. D'Andrea
Dr. Ronald J. D'Andrea is a graduate of Fairfield University and the University of Connecticut School of Dental Medicine. Due to his training and qualifications, he is a member of various organizations, including the American Dental Association. He strives to provide his patients with the most advanced services to develop healthy, beautiful smiles. In addition to his skills and experience, he also uses emerging technologies to provide superior care. Contact our office today to schedule an appointment.