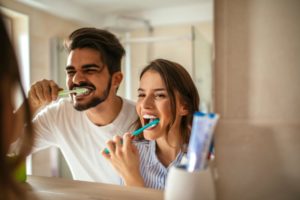 Putting off your next dentist visit because you can't carve the time away from work or school can have a more detrimental effect on your overall health than you thought. With over 80 percent of Americans affected by gum disease, it's no wonder why cardiovascular disease is the leading cause of death around the world, according to the American Heart Association. Thankfully, your dentist in Hamden can shed light on how you can protect your health for years to come.
What are the Connections Between Heart Disease and Oral Health?
Recent research has found a couple links between heart disease and oral health. Studies show that if you are in moderate or advanced stages of gum disease, you are more susceptible of developing heart disease than somebody with healthy gums.
Both heart disease and oral health have similar sources from smoking, diabetes and poor nutrition. Additionally, certain bacteria that create gum disease have been found in arteries that can  heart disease. Both heart disease and gum disease are caused by the spread of similar bacteria into different parts of your body through your blood stream.
There's also some good news about this connection! Research has also found that looking into your oral health can provide doctors with insight into potential diseases and health conditions you may be subject to.
What Puts you at Risk?
People with gum conditions like gingivitis and periodontal disease are at higher risk of heart disease because of poor or unmanaged oral health. When the bacteria that causes these conditions build up under the gum line and mouth, it can eventually make its way into the blood stream.
Other habits like smoking, poor nutrition and teeth grinding can severely damage your gums. The ADA stated that smoking is the cause for almost 75 percent of gum disease among adults. Stress can make it hard to fight off disease and infection and the pressure from grinding your teeth can break down your supporting tissue faster than usual.
While habits can put you at risk, you can also be more susceptible to developing periodontitis because of your genetics. Fortunately, through a series of genetic tests, you can find out and be take preventive measures before symptoms start to arise.
The Best Preventive Techniques
Most gum disease is undiagnosed because it's difficult for patients to feel or recognize. Because of this, it's important to go to regularly-scheduled checkups and cleanings to catch these symptoms before they progress. The best ways to prevent bacteria buildup in your mouth is to brush and floss regularly. Brushing for at least two minutes twice a day and flossing can help disrupt the buildup.
Changing your diet can also prove to be an effective preventive technique to reduce the risk of heart disease. Because everything you eat comes in contact with your teeth, staying away from acidic, sugary and processed foods that can destroy your enamel and cause cavities can be beneficial to your oral health. Speak with your dentist about how you can keep your heart safer through good oral hygiene practices or if you have any other questions.
About the Practice
Dr. Kevin D'Andrea, Dr. Ronald D'Andrea and Dr. Robert Pantera have been providing the community of Hamden with the most up-to-date dental care for many years. They regularly attend seminars and conferences to understand the latest advancements in their field and are dedicated to giving you your best smile. For questions, contact their practice at 203-288-0951 or visit their website.