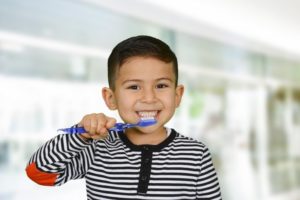 February is National Children's Dental Health Month, which is a time set aside to raise the oral health IQ of both parents and children across the country. The best way to go about this is through proper education. Thus, your children's dentist in Hamden weighs in to provide 5 key tips that, if followed, will ensure your child healthier teeth and gums well into the future!
The Effect of Bacteria on Oral Health
The main threat to your child's oral health are bacteria. The harmful microorganisms are always present, but if they fed, they can grow exponentially and lead to a host of dental and overall health issues like tooth decay, gum disease, heart disease and hypertension.
By establishing a trend of excellent oral health early, you'll be launching your child on a trajectory for functional teeth and better total wellness for years to come!
Tip #1 – Encourage Excellent Oral Hygiene
The main protection against bacteria growth is oral hygiene, which should include your child brushing and flossing at least two times a day. In doing so, any remaining debris from a meal can be removed before they spur new bacteria growth.
Tip #2 – Monitor Any Sugar Intake
Most children are partial to eating sweets. The problem with foods and beverages high in sugar is they attract bacteria that release caustic fluids when they consume the leftovers.
To reduce the chances of any negative effects, monitor your child's sugar intake. By denying bacteria the foods they love the most, there is a better chance of limiting their harmful impact on the teeth and gums.
Tip #3 – Encourage More Water Consumption
While your child may prefer to drink juices and sodas, the better option is to consume water. Not only is it vital to the function of the body, but it also helps to flush the mouth after a meal to decrease the amount of debris that remains.
Tip #4 – Offer Rewards
All children need positive reinforcement. A great way to go about it is to offer them rewards for maintaining excellent oral hygiene habits and eating healthier foods like fruits and vegetables.
One way to encourage compliance is to surprise your child with a trip to his or her favorite store or to see a movie.
Tip #5 – Make Dental Visits an Anticipated Event
For some children, a visit to the dentist can be a little unsettling. One way to overcome any apprehension is to take your child in for an unofficial visit so he or she can become acquainted with the dentist, the staff and the office environment.
Once your little one gets to know everybody, visiting the dentist will become an anticipated event!
About the Author
Dr. Ronald J. D'Andrea earned his dental degree from the University of Connecticut School of Dental Medicine. An accomplished professional, he has been elected a fellow of the renowned Pierre Fauchard Academy. Dr. D'Andrea combines a wealth of expertise and compassion to provide children with the best in dental health at his private practice, and he can be reached for more information through his website.