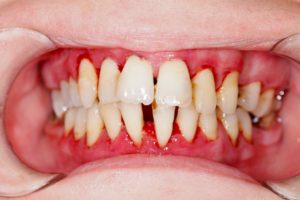 You work hard to keep your teeth cavity-free for a healthy, beautiful smile, but what are you doing to protect your gums from damage? Their health is equally important as that of your teeth. Unfortunately, the Centers for Disease Control and Prevention estimates at least 50% of Americans have a form of a preventable infection known as gum disease. Bacteria found in plaque and tartar accumulations infect the tissue causing the supporting structures for your teeth to be destroyed. To protect your oral health, it is vital you see your dentist in Hamden at the first sign of the infection.

Stages of Gum Disease
Gum disease does not happen overnight. It is a gradual process that occurs in various stages as the infection progresses. It is best to spot the signs of it early to get the treatment you need to prevent it from advancing to more severe stages.
Gingivitis
The earliest stage of the infection is known as gingivitis. It causes the tissue to become red and inflamed. You may even notice your gums bleeding when brushing and flossing your teeth. At this point, the infection can be stopped quickly with a deep cleaning and changes to your oral hygiene routine. With quick intervention, it will not result in permanent damage.
Periodontitis
If gingivitis is left untreated, it will advance to periodontitis, which causes the bone and fibers that support your teeth to be irreversibly damaged. Pockets form in the gums, trapping bacteria and tartar between the surfaces of your teeth and your gums. Periodontal therapy and improved oral hygiene habits will stop the spread of the infection.
Advanced Periodontitis
The final stage of the infection occurs when the bones and supporting structures of your teeth are destroyed, known as periodontitis. Your teeth may shift or fall out from the lack of support. Now, you need an aggressive treatment plan to stop the bacteria while also requiring various procedures to rebuild your smile.
Do I Have Gum Disease?
The first signs of the infection may be subtle, but over time they become more apparent. You may notice:
Red, swollen, puffy, or tender gums.
Gums that bleed with brushing and flossing.
A receding gum line.
Gums pulling away from your teeth.
Changes to the alignment of your teeth or bite.
Tooth sensitivity.
Pus coming from your teeth and gums.
Chronic bad breath.
A bad taste in your mouth.
Loose teeth.
Protect Your Smile!
You can prevent gum disease with a proactive approach to your oral hygiene and regular care from your dentist. If you see any signs of the infection, do not wait. Schedule an appointment with your dentist right away.
About Dr. Robert M. Pantera
Dr. Robert M. Pantera received his dental degree from the University of Connecticut School of Dental Medicine. Due to his qualifications and experience, his is a member of various dental organizations, including the American Dental Association. He offers the high-quality services you need to keep your teeth and gums healthy. If you need periodontal therapy, contact our office today for an appointment.