Dental Implants – Hamden, CT
The New Pinnacle of Long-Term
Tooth Replacement
Tooth loss can have severe consequences for much more than just your self-confidence – it also impairs your oral health and even your overall quality of life. That's why our dentists are committed to helping patients regain strong, capable smiles after teeth are lost. Out of all the tooth replacement options available today, none are more effective or revitalizing than dental implants from our Hamden, CT dentist. This solution delivers stability, longevity, reliability, and confidence in your smile that others simply cannot.
Why Choose D'Andrea and Pantera, DMD, PC
for Dental Implants?
Partnered with Hamden-Area Dental Implant Specialists
Calm, Relaxing Dental
Office Environment
Fair Fees Without Any
Unpleasant Surprises
What are Dental Implants?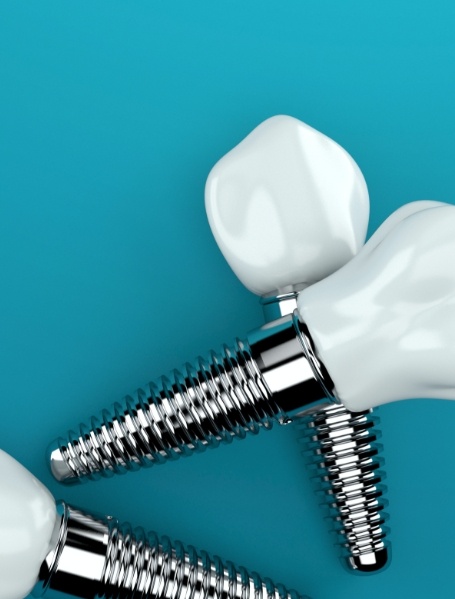 Dental implants are a replacement for the roots of missing teeth, which are normally located beneath the gumline. A dental implant is a tiny post, usually made from titanium, that is surgically embedded into the space where the tooth's supportive root structure once was. Over the next several months, the implant post fuses with the jawbone to provide stability for the custom-made dental crown, bridge, or denture that can be affixed on top. In the end, you'll have a replacement tooth that looks and feels almost exactly like the one that was lost. Eventually, you might even forget that you lost any teeth at all!
The Dental Implant Process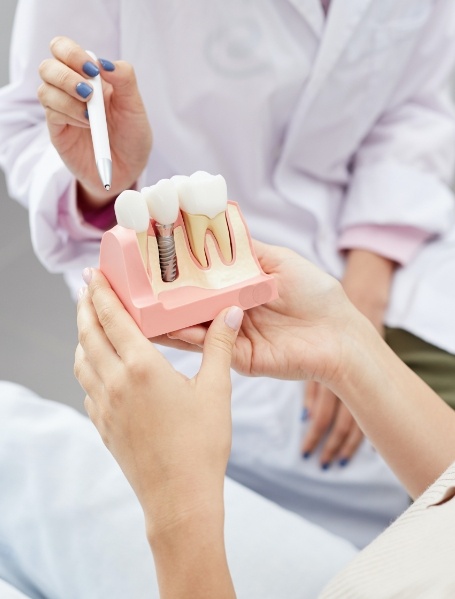 Our doctors will work with trusted surgical specialists for your dental implant placement. Doing this ensures you receive the most comprehensive dental care possible and that your implant treatment is a complete and total success. Once you have healed from this procedure and your new implant(s) have created a strong bond with the natural tissue in your jaw, you'll return to our dental office so that we can design and place lifelike dental restorations, whether it's a crown, bridge, or denture.
Benefits of Dental Implants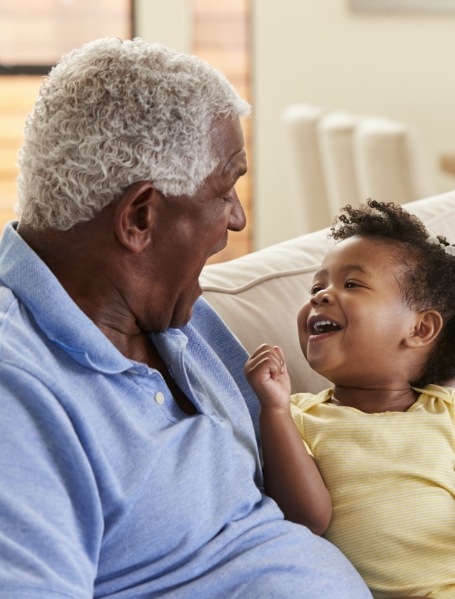 Unlike traditional tooth replacement solutions, dental implants are designed to replicate the entire structure of your natural tooth. This includes the crown (the white portion that's visible in your smile) and the root (the portion that's hidden beneath the gumline). With dental implants in place, patients can enjoy a tooth replacement that's virtually identical to what was lost.
For example, you can expect it to be much easier to chew your favorite foods without worry and maintain the most natural-looking smile possible thanks to this integration. If you take good care of your oral health and hygiene, it's also very likely that your dental implants can last a lifetime.
Who Dental Implants Can Help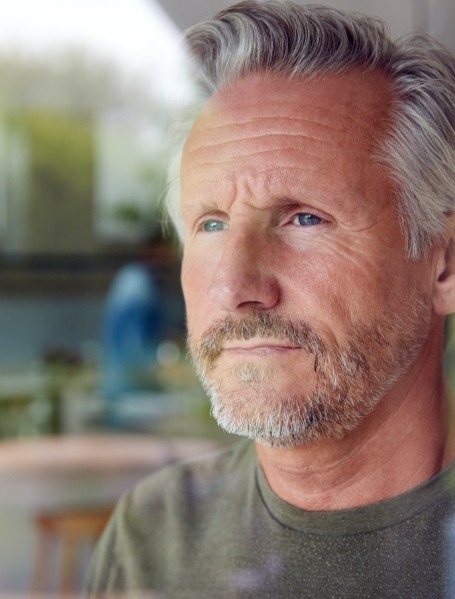 It does not matter if you are missing a single tooth or all the teeth in your mouth; dental implants are capable of replacing all of them quite effectively. Below, you can learn how the process works depending on the severity of your tooth loss.
Missing Single Tooth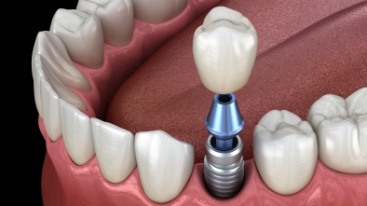 Replacing a single tooth is done by making a small incision in the gum tissue, creating a tiny hole to make room for the implant, then placing the implant into the jawbone and closing the gum tissue. Once the bone and gum tissue have healed around the implant, a porcelain crown can be placed on top.
Missing Multiple Teeth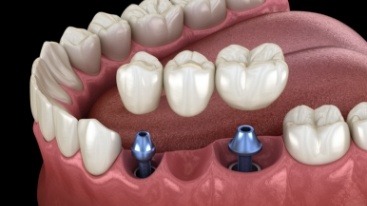 When replacing multiple missing teeth, a pair of dental implants are generally enough to hold a dedicated bridge. This means that we do not have to remove any existing enamel just to replace teeth, a common practice for traditional dental bridges.
Missing All of Your Teeth
Whether you're missing all teeth in your top arch, bottom arch, or both, a series of implants strategically placed throughout the jaw can provide the long-term stability needed to keep the denture secure. Additionally, choosing a fixed option means you won't have to remove the denture just to keep it clean!
Understanding the Cost of Dental Implants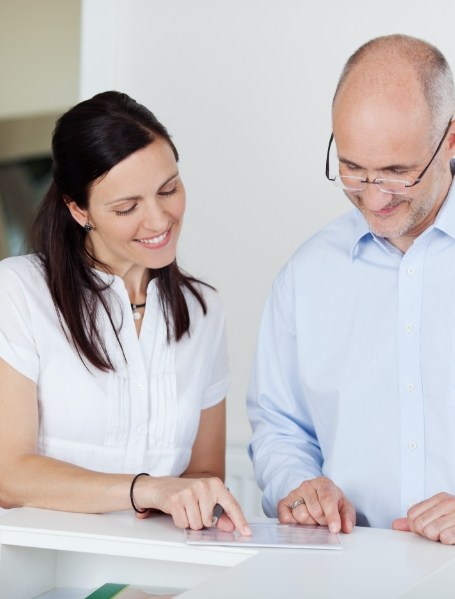 When choosing dental implants, you want to be sure you are making a solid investment. We strive to provide our patients with transparency and insight, so you can feel confident about your treatment plan and its cost. There are many factors that influence the cost of dental implant treatment, as we will discuss in detail below. With that said, you can expect your investment to be worthwhile due to the longevity, esthetics, and functionality dental implants in Hamden provide.
Preliminary Treatments & Dental Implant Surgery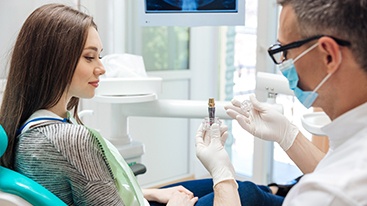 Depending on your unique situation, you may need a preliminary treatment like gum disease therapy or a bone graft before receiving dental implants. These treatments will help ensure the success of your dental implants but will also add to the overall costs.
At D'Andrea and Pantera Family & Cosmetic Dentistry, we partner with the top dental implant specialists in the area for the oral surgery stage of implant treatment. This means you can expect to pay separate fees for oral surgery and for your restoration. If anesthesia is used during oral surgery, that will influence the final costs.
The Parts of Your Dental Implant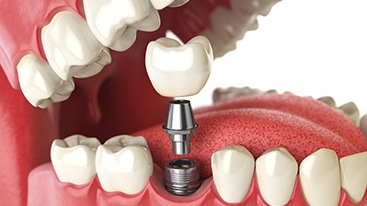 The overall cost of implants in Hamden is also affected by:
Number of Implants: One implant can replace a single missing tooth, two implants can support an implant bridge, and four or more implants can replace an entire row of teeth.
Type of Restoration: Crowns, bridges, and dentures all have different costs; naturally, smaller restorations are often less expensive.
Material: Zirconia and titanium are the two most common implant materials and they have slightly different costs.
Brand: Just like there are different makes and models of cars, there are also various implant manufacturers. Feel free to ask us about where we're getting your implant as well as any brand specific benefits.
How Dental Implants Can Save You Money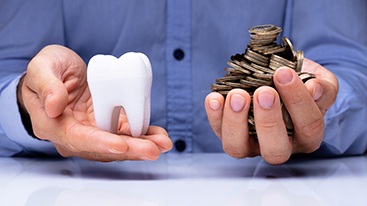 Choosing traditional dentures or bridges over implants can save you money in the short term. However, over time, dental implants often end up paying for themselves many times over. With proper care, dental implants can easily last for decades. Traditional dentures and bridges, on the other hand, typically have to be replaced every five to 10 years. In addition to fewer replacement costs, dental implants are also easier to clean and maintain. This means you may be less likely to experience gum disease, tooth decay, and other oral health issues that would require costly care.
Does My Dental Insurance Cover Dental Implants?
Dental insurance typically doesn't cover the cost of dental implants in Hamden. However, there are some important exceptions. You may be able to count on your insurance to pay for costs related to preliminary treatments or the restoration that attaches to your implant. Our knowledgeable team will be happy to help you understand the details of your insurance plan. We always strive to maximize insurance benefits for our patients!
Making Dental Implants Affordable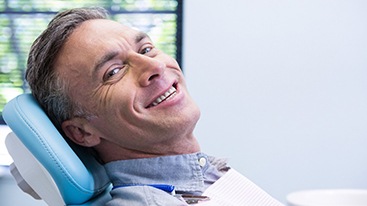 Fortunately, there are plenty of ways beyond insurance to make dental implants affordable. For example, qualified patients can take advantage of flexible financing from CareCredit. With CareCredit, you can break down the cost of implant treatment into convenient monthly payments that fit in your budget.
You can also save money by joining the Bright Smile Club, our in-house membership plan! For one annual fee or low monthly payments, you get access to all the preventive oral care you need for a year. On top of that, Bright Smile Club members can save 15 percent on many additional treatments.
At D'Andrea and Pantera Family & Cosmetic Dentistry, we believe every patient deserves a healthy, complete smile. Schedule an initial consultation with one of our implant dentists in Hamden to learn more about how to make implants affordable.
Types of Dental Implants
At D'Andrea and Pantera, DMD, PC, our dentists offer different dental implants based on your individual needs. Depending on how many teeth are missing, you can expect the cost to rise when more implants are needed to rebuild your smile. The different types of implants include:
Single Tooth Implant – Comprising the titanium implant, abutment, and custom-made dental crown, this replaces one single missing tooth.
Implant Bridge – If you're missing one or several consecutive teeth in a row, an implant bridge is a great solution. Most likely, you'll have two implants, as well as a customized dental bridge to complete your smile.
Implant Denture – The costliest of the three options is the implant denture. For individuals who don't want traditional dentures and who are missing all their teeth in an arch, implant dentures are kept in place by four to six strategically placed implants, and a custom denture is secured to the top of your posts.
Again, the more implants you need, the higher the cost.
What Are the Stages of Dental Implant Treatment?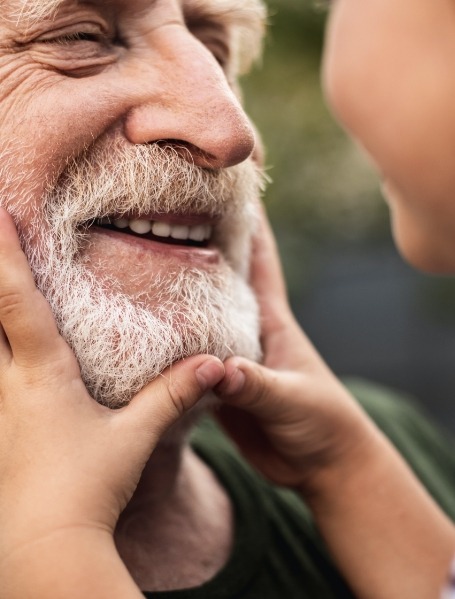 As you sit down with one of our dentists, your treatment plan will outline the total of your procedure. You can expect each phase to incur a separate cost. Here is an example of what charges might be included:
The initial consultation: During this visit, your dentist will examine your mouth to determine if you are an ideal candidate for dental implants. Taking X-rays and evaluating your overall bone and tissue health, they will create a treatment plan based on the information provided.
Pre-implant dental work: Should we find that you need dental work prior to receiving your dental implants, separate charges for things like bone grafting or periodontal therapy will be added to the overall cost.
Surgical placement: Depending on the number of implants you're having placed, the oral surgeon will make an incision in the gum line and place the implants. Stitching up the surgical site, you'll be sent home to heal for several months, usually three to six. The actual procedure and number of implants are factored into the estimated price.
Abutment: When you return to our dental office after months of healing, our dentists will secure an abutment, which is a separate appliance that connects the implant to the custom restoration. This is another fee.
Custom restoration: Once your custom dental crown, bridge, or denture is ready, we'll place it on top of your implant to create a seamless smile. Naturally, your prosthetic will also be a separate price.
Are Dental Implants Worth the Investment?
The short answer to this question is a resounding yes! If you don't want your fixed bridge, denture, or partial to be replaced every few years, you'll be pleased to know your dental implants can last decades or even a lifetime with minimal maintenance. Talk about the money you'll save! But that's not their only benefit. They're also:
Easy to clean and maintain
Much more stable than your traditional dentures, partials, or a fixed bridge
Capable of restoring your overall facial appearance and preventing facial sagging
Able to increase your self-esteem and confidence
Does My Dental Insurance Cover Dental Implants?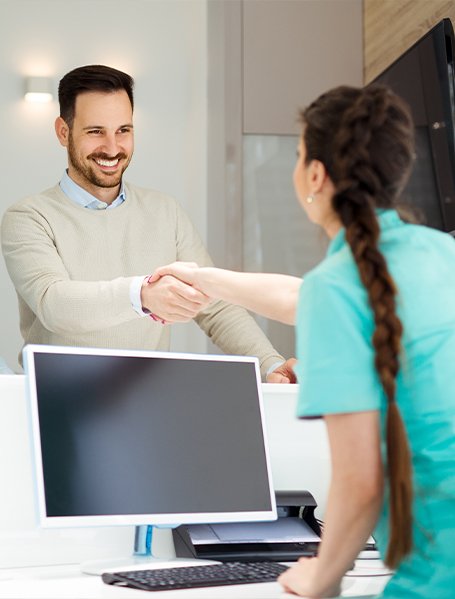 Most dental insurance companies will not cover the cost of dental implants, but what you might not know is that parts of your overall treatment may be eligible for coverage, including:
Any pre-dental implant work (periodontal therapy, bone grafting)
Consultation
Custom restoration
Anesthesia/Sedation
In addition to participating with various dental insurance companies, our dental office offers CareCredit, which can help you finance this type of extensive and long-term treatment.