Porcelain Veneers – Hamden, CT
Enhancing Hamden
Smiles
Did you know that in just two appointments the cosmetic dentists at D'Andrea and Pantera, DMD, PC could give you a brand new smile? Maybe that's why porcelain veneers have become such a popular cosmetic dentistry treatment. With porcelain veneers in Hamden, you can hide your unsightly teeth and present a smile that is beautiful. If your smile isn't quite what you'd like it to be, then schedule a consultation with one of our cosmetic dentists. Our team is excited to work with you to create a smile that renews your self-confidence and looks completely natural, using porcelain veneers from our Hamden, CT cosmetic dentist.
Why Choose D'Andrea and Pantera, DMD, PC
for Porcelain Veneers?
Kind and Knowledgeable Dentists Dedicated to Your Needs
Made from Lifelike, Long-Lasting Dental Materials
Personalized with Your Exact Specifications in Mind
What Exactly are Porcelain Veneers?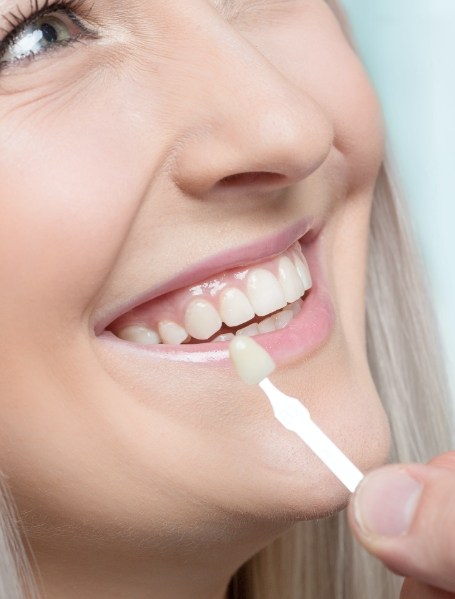 Whether they are called porcelain veneers, dental veneers or just veneers, these cosmetic overlays create the same effect: teeth that are the perfect size, shape and color so you have an enviable smile. Veneers are ultra-thin sheaths of high-quality dental porcelain that the dentist adhesively bonds to your front teeth. Once in place, each custom designed and crafted veneer makes the corresponding tooth look precisely correct. So, your incisors look like incisors and bicuspids look like bicuspids.
Hiding Smile Flaws with Porcelain Veneers
Porcelain veneers are ideal for hiding a number of different cosmetic imperfections in your smile such as:
Teeth that are chipped, cracked or broken
A permanently stained or discolored tooth
Teeth that have wide gaps between them
Crowded or slightly rotated teeth
A tooth that is misshapen or proportionally smaller than others
The Porcelain Veneer Process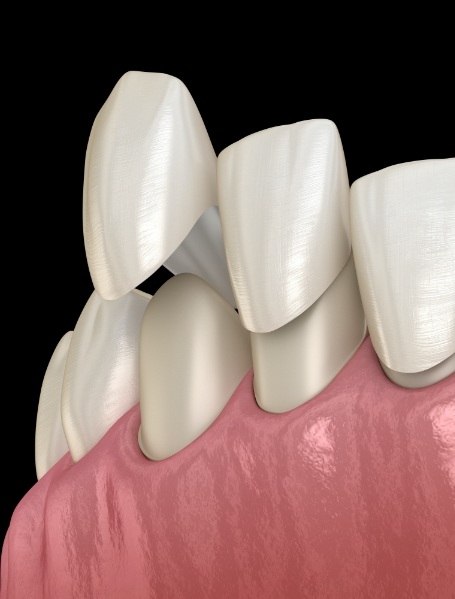 First, you'll have a consultation with one of our dentists to determine if porcelain veneers are the correct cosmetic option for your smile. This is the perfect time for you to discuss the kinds of changes you'd like to see happen. From small chips to large fractures, porcelain veneers can cover them all so don't hesitate to mention anything that bothers you!
Next, the cosmetic dentist will examine your teeth and gums to ensure that there are no underlying concerns that need to be taken care of first. Then, once your oral health is confirmed, we'll take a collection of X-rays, photographs and impressions that will be used to design veneers that fit your mouth perfectly.
Actually bonding the veneers to your teeth requires scheduling two appointments. First, the dentist removes a slim layer of enamel from your teeth. This is necessary to ensure a comfortable and aesthetically pleasing fit for your new veneers. Once this step is completed, a temporary set of veneers is put in place to protect your teeth while our lab handcrafts your new permanent smile.
When your customized porcelain veneers arrive, you'll return to have them bonded to your teeth. Because your own teeth are behind your veneers, you must brush and floss your smile every day. Regular dental checkups and daily brushing and flossing are essential to ensuring your oral health when you have veneers, as well as the appearance and longevity of your new smile.