Teeth Whitening – Hamden, CT
Make Tooth Stains
and Discoloration Vanish
It's natural for our teeth to discolor as we age -- but when it happens to you, that staining or discoloration may cause you to feel a little self-conscious about your smile. Fortunately, you can reveal a brighter, whiter grin with professional teeth whitening from your cosmetic dentist. We offer take-home whitening kits to break through even the most severe dental stains.
Why Choose D'Andrea and Pantera, DMD, PC
for Teeth Whitening?
Powerful In-Office Teeth
Whitening Available
Take-Home Whitening
Offered for Convenience
See Your Smile First with Virtual Smile Design Software
Why Do Teeth Discolor?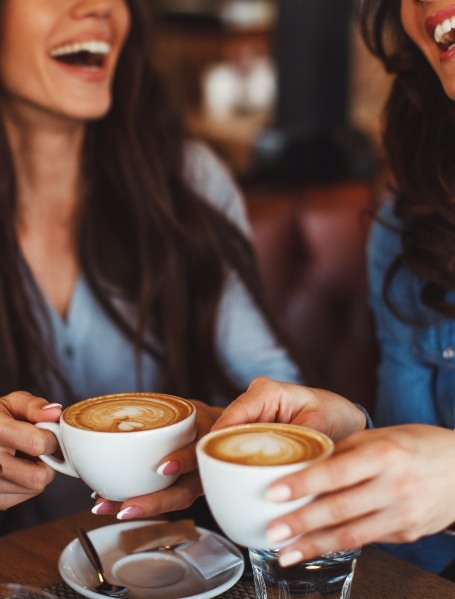 Genetics play a significant factor in the shade of your enamel, as some people were just born with whiter teeth than others. But no matter how bright, that natural color is likely to change over time. As we get older, our teeth grow more brittle. It's not really a bad thing, but it means that the enamel is more likely to absorb the colors of things that you eat and drink, like coffee, red wine, berries, and the list goes on. People who smoke will experience more significant staining, and less-than-perfect dental hygiene habits may cause the teeth to yellow.
There are two types of stains: intrinsic, or those that live below the tooth enamel, and extrinsic, which exist right on top. You may be able to lighten some extrinsic staining with a whitening toothpaste or over-the-counter treatment, but to reach below the tooth enamel where the stains really live, you'll need to partner with your cosmetic dentist for a professional treatment.
Zoom! Teeth Whitening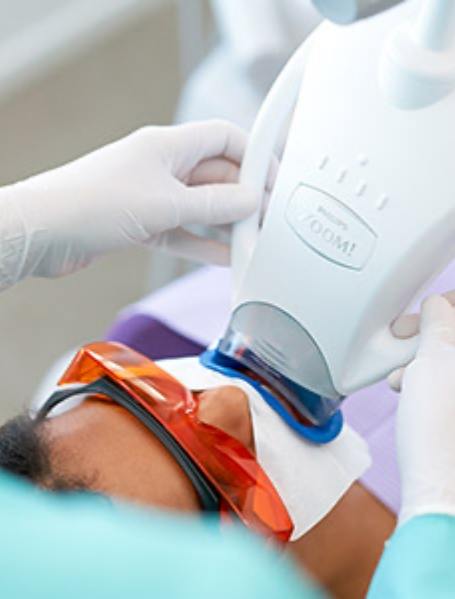 Do you want a brighter smile, but you've tried every store bought whitening product available with little to no change? You're not alone. Luckily, there's a better option – professional teeth whitening using the innovative Zoom! system. This in-office teeth whitening treatment offers predictably brighter smiles up to ten shades lighter in about an hour. Zoom! teeth whitening uses an accelerant light to speed up the whitening processing, allowing patients to see the dramatic results they desire right away and spend less time in our dental office and more time sharing their brilliant smiles. Following Zoom! teeth whitening, we can also provide fluoride treatment to help patients avoid the dental sensitivity that can occur following teeth whitening.
How Does Take-Home Whitening Work?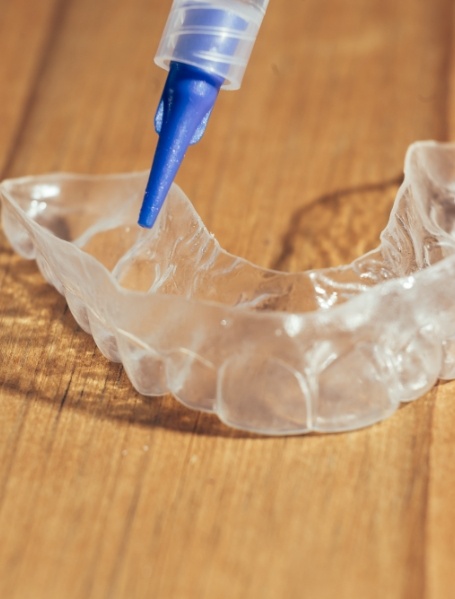 Our dental office offers take-home teeth whitening, which is associated with less sensitivity than other options in professional whitening. You will wear the kit for about half an hour each evening. It's best to whiten at night when you're finished eating and drinking for the day, as your teeth will be more susceptible to staining immediately after each application.
With trays customized to your unique dentition, the high powered bleaching gel is held right up against your tooth enamel for maximum whitening. Results are revealed over the course of about two weeks. The benefits of take-home professional teeth whitening include:
Professional grade gel reveals maximum results
Easy to use at home
Breaks through even the toughest stains
Customized treatment protects your soft oral tissues from injury
Results can last for years with proper hygiene
How Can I Maintain My Results?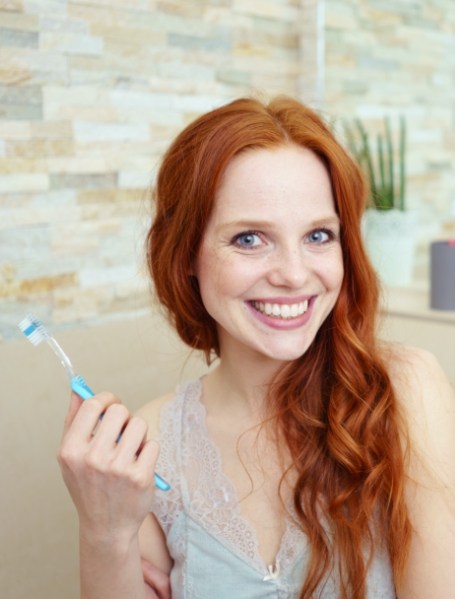 Once we have helped you reveal your brightest, whitest smile, we want you to keep it that way! Take heed of our post-whitening advice and you may never need a retreatment again. To enjoy your brightest smile for as long as possible, try to:
Maintain proper oral hygiene. Brush for two minutes twice a day, floss daily, and visit your dentist regularly for routine checkups and cleanings.
Rinse your mouth out with water after eating or drinking highly pigmented foods and beverages.
Chew sugarless gum after and between meals.
Drink dark beverages, teas, and sodas through a straw to avoid contact with your tooth enamel.
Avoid tobacco use of any kind.
Let's Get Started On Your Best Smile!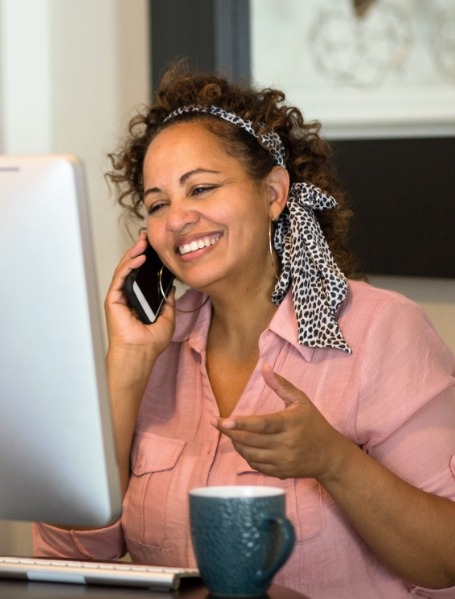 Are you interested in professional teeth whitening? A take-home kit can help reveal a smile you'll be proud of. Please don't hesitate to request an appointment today!