Invisalign – Hamden, CT
Achieve the Straight Smile
You've Always Wanted
Do you want straighter teeth, but have been putting it off to avoid the hassle and metallic look associated with traditional braces? Well, the wait has ended! Our cosmetic dentists are happy to offer Invisalign in our Hamden, CT dental office, a clear braces solution.
Why Choose D'Andrea and Pantera, DMD, PC
for Invisalign?
Family of Dentists Dedicated
to Your Comfort
Digital Impression
System In-House
Warm, Relaxing
Dental Office Environment
Traditional Braces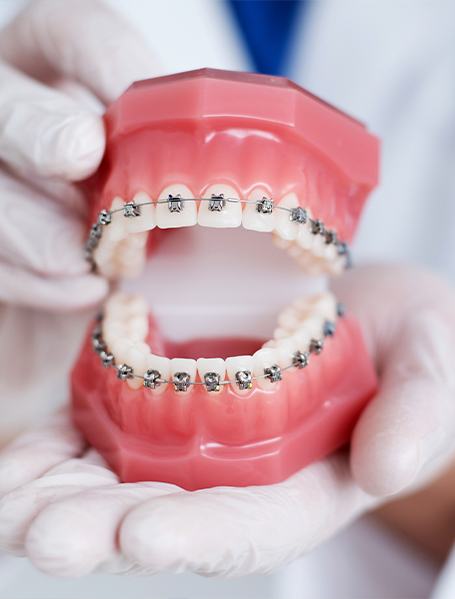 Traditional braces may not be the flashiest option for straightening teeth, but their reliable results can make a big difference for children, teens, and adults alike! Not only can braces erase even serious gaps and misaligned teeth for beautiful cosmetic results, but they're also capable of correcting chronic bite problems, resulting in a higher quality of life. Our team will be sure to let patients know if we think that traditional braces are the right solution for your unique concerns and goals.
Invisalign® Clear Aligners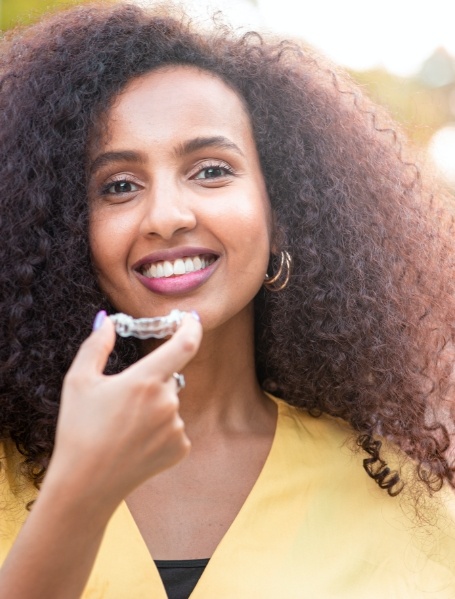 Invisalign aligners are comfortable, low profile, and custom-made clear plastic trays – most people won't even realize you're wearing them. As your teeth change and your smile improves, you will switch to a new aligner every two weeks, wearing them for 20-22 hours a day. On average, treatment takes about a year, but every smile is different. Another great benefit is that the aligners are removable. This makes eating, drinking, brushing, and flossing easier than with traditional braces, and it gives you the freedom to take them off for photographs or special occasions.
Invisalign is especially great for our adult patients who want a straighter smile but are concerned about the impact that traditional braces might have on their professional image. We will help come up with the right smile solution to meet your unique needs.
Our cosmetic dentists and team would be happy to see if Invisalign is the right solution for your smile. Everyone deserves to have a straight, beautiful set of teeth that they are proud to show off.
Invisalign Frequently Asked Questions
If you've been putting off straightening your teeth because you can't afford to sacrifice your professional image, you'll be pleased to know that you don't have to! At D'Andrea and Pantera, DMD, PC, we use clear smooth aligners that are customized to comfortably shift your teeth into their ideal positions. That way, you won't have to deal with the hassle of brackets and wires. For your convenience, we've compiled some common questions we receive below.
Are Invisalign aligners uncomfortable to wear?
For traditional braces, patients have to endure routine uncomfortable visits with their orthodontist to get their wires tightened. Invisalign treatment doesn't require this at all. In fact, each visit will involve a simple progress check and collection of your new set of aligners. While the entire treatment is virtually pain-free, it is important to note that you may experience some soreness as you switch to your new set of trays. The best way to counteract this is to make the change at night, so you sleep through a majority of the adjustment period.
How do you keep Invisalign aligners clean?
Keeping Invisalign aligners clean is relatively easy, it's just important to stay on top of your routine so no bacteria, food particles, and plaque get wedged between your trays and teeth. Be sure to:
Take your aligners out before you eat or drink anything besides water.
Rinse your aligners after each meal or snack.
Clean your aligners using a denture or soft-bristled brush and clear antibacterial soap.
Soak your aligners for 10 to 15 minutes in a 50/50 mixture of water and hydrogen peroxide or vinegar.
Don't use hot water while cleaning your aligners. It will cause them to warp.
How do I know if I need braces or if I can get Invisalign treatment?
Some orthodontic cases may require traditional metal braces to treat. However, there's no way to know for sure until you visit your dentist for a consultation. Invisalign treatment can fix a majority of cases that involve misalignment, crowding, gaps, and minor bite problems. When you come in for your first appointment, we'll let you know if they're the best treatment choice for your unique situation.
Do I need to wear a retainer after my Invisalign treatment?
Just like with traditional braces, most patients need to wear retainers after they complete their Invisalign treatment. When you get closer to using your last set of aligners, your dentist will speak with you about how long you'll need to wear your retainers for and whether you're a good candidate for a permanent retainer. Because your teeth have a sort of muscle memory, they'll move back into their original places if they're not held in position with a retainer. So, if you want to maintain your results after all of your hard work, be sure to follow your dentist's aftercare instructions.
Is Invisalign covered by my dental insurance?
Most dental insurance plans consider Invisalign treatment a cosmetic service, which is why many don't cover the cost of it. However, it's a good idea to contact your provider directly and ask. Our team at D'Andrea and Pantera, DMD, PC can help you find out as well. If your insurance doesn't, we also offer additional financing plans through CareCredit that have little to no interest attached.