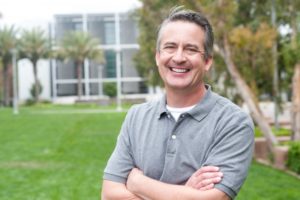 Unfortunately, colon cancer is on the rise in the US, but there are ways to prevent and detect this problem before it becomes life threatening. March is Colon Cancer Awareness Month, which is an effort to raise awareness on the importance of knowing the symptoms of colon cancer and receiving screenings. Although it isn't directly a dental topic, your dentist in Hamden understands the importance of maintaining your overall health. Keep reading to learn about the risks and symptoms of colon cancer as well as why it's vital to get screenings.
What's Your Risk of Colon Cancer?
While everyone is at risk, no matter their ages, your risk of colon cancer increases with these factors:
Colon cancer is most commonly found in older people. 90% of those who have been diagnosed with colon cancer are over the age of 50.
African Americans are more susceptible to colon cancer than any other race, which is why they should begin getting colonoscopies earlier in their lives.
If you have a personal or family history of colon cancer or polyps, you're more likely to get it in the future.
You're also at risk if you have any existing inflammatory bowel diseases.
What Are the Symptoms of Colon Cancer?
One of the main reasons that colon cancer screenings are so important is it can be relatively symptomless. However, you should still be aware of these common signs:
Changes in your bowel habits
Rectal bleeding or bloody stool
Weakness or fatigue
Cramping and abdominal pain
Unintended weight loss
How is Colon Cancer Detected?
Thankfully, the survival rate of colon cancer is 90% if it's caught and treated early, which is why reliable screenings are vital. A colon cancer screening is called a colonoscopy, and they are performed by highly-trained and experienced gastroenterologists. These are usually covered by insurance, but if you are uninsured, there are typically affordable options available. The colonoscopy not only screens you for cancer, but it will also check for other signs and abnormalities to make sure you're as healthy as possible.
Why Screenings Are Vital
Excluding skin cancers, colon cancer is the 3rd most common cancer that is diagnosed in men and woman in the US. In 2019 alone, there are already an estimated 101,420 new colon cancer cases and over 40,000 new cases of rectal cancer. Although the cases are slightly on the rise, the death rate has been slowly decreasing based on awareness and life-saving screenings.
While a colonoscopy may never be on your list of favorite activities, Colon Cancer Awareness Month is a great time to understand why they're important and necessary.
About the Practice
At D'Andrea and Pantera, we have a team of 3 dentists who are dedicated to providing quality care. They believe in patient education, which is why they want you to know the importance of colon cancer screenings, even if it's not a dental issue. For any questions, they can be contacted through their website or by phone at (203) 288-0951.