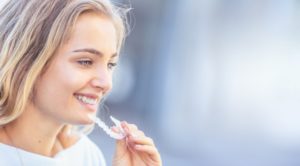 You have some bite issues that you're not proud of, and your mind is made up. It's time to make some changes. One of the options you've learned about is Invisalign, but you need more information. What should you expect from the treatment process, and how long will it take to complete? Continue reading to find out what you need to know about Invisalign in Hamden!
How the Invisalign Process Works
Invisalign clear aligners use a series of custom-designed trays to safely apply pressure to teeth to help them properly align. Each set of aligner trays is worn for two weeks and then exchanged for the next pair in the series. This pattern is followed until the treatment is done.
Before any of the design and treatment begins, a dentist will first perform a thorough examination to determine what will be needed to deliver the smile of your dreams.
How Long Will Treatment Take?
One of the most attractive features of Invisalign is that it offers the possibility of a faster treatment process than traditional braces. In some cases, patients can have their bite corrected in as little as 12 months. This shouldn't be considered as standard, though, as each patient is unique.
Here are some of the reasons the treatment could take longer:
Gaps in Teeth – Treatment may take longer because the teeth will have farther to move to close the open space, and there may be structural challenges that have to be overcome.
Extremely crowded teeth – In situations where there is severe crowding, the dentist will continue providing aligners until the affected teeth straighten. This can add to the overall treatment time.
Severe alignment issues – The more correction that's needed to align your teeth, the longer it can take to achieve the final goal.
This is why the dentist will perform a careful bite assessment and then develop the treatment regimen from there. This will include taking 3-D scans that will be used to design the aligners, develop an image of the final appearance of your smile and create a treatment timeline.
The Importance of Plan Adherence
When your treatment gets underway, you'll be given instructions as to how to wear your aligners. The aligners will need to be worn at least 22 hours a day in order to stay on track with the predesigned plan. Failing to do so could lead to regression, a longer than necessary treatment time and higher cost.
Ultimately, taking a responsible approach to your Invisalign treatment protocol will allow you to stay on track and soon enjoy the feeling of having a set of teeth that look and function like never before!
About the Author
Dr. Ronald J. D'Andrea is a graduate of the University of Connecticut School of Dental Medicine. Additionally, he maintains membership with the American Academy of Clear Aligners, which allows him to stay abreast of the latest products and techniques associated with bite correction. Dr. D'Andrea creates beautiful smiles with Invisalign at his private practice. He can be reached for more information or to schedule a consultation through his website.