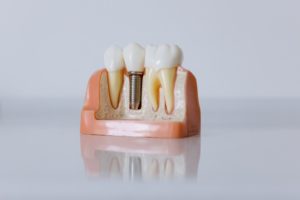 500,000 people every year are ditching bridges and dentures by replacing their missing teeth with dental implants. They are the most reliable method of treating tooth loss with over a 95% success rate. They are proven to last for decades with the right home care and visiting a dentist in Hamden regularly, but what makes dental implants successful? Here are 6 secrets behind their outstanding reputation. 
1. Replicate the Entire Tooth Structure
Traditional tooth replacement options, such as dentures or bridges, only replicate the portions of lost teeth visible above the gum line. A dental implant recreates both the root and crown. A titanium post is surgically placed into the jawbone to mimic a root, which will support a custom-made restoration that's attached using an abutment. This creates the next best thing to a natural tooth.
2. Advanced Dental Technology
From start to finish, advanced technology is used to promote the success of the procedure, like a CT scan for treatment planning. The highly detailed images work with computer-guided implant placement to take the guesswork out of the process. Implant posts are placed with pinpoint accuracy for optimal results.
3. Osseointegration
Dental implant success relies on the jawbone fusing to the post through a process called osseointegration. With the post serving as a new root, it stimulates bone growth, allowing the jaw to fuse to it to potentially remain in place for a lifetime. Titanium revolutionized dental implants because it integrates well with bone and reduces the risk of rejection from metal allergies. It's also durable enough to withstand the pressure of chewing and can last for 30 years or more.
4. A Good Oral Hygiene
Dental implant failure is rare, but it often results from peri-implantitis, which is an infection like gum disease. A good oral hygiene routine at home can keep infection at bay by removing plaque and tartar that harbor bacteria. Brushing, flossing, and using a daily mouthwash will promote a clean, healthy smile.
5. Healthy Lifestyle Habits
Diet and lifestyle factors also affect the lifespan of dental implants. Breaking bad habits, like smoking or drinking a lot of alcohol, is vital to promoting the long-term life expectancy of dental implants.
6. Routine Dental Care
Routine dental care removes buildup that can cause infections. A dentist can also detect anything concerning quickly, like gum inflammation. Early diagnosis and treatment can prevent dental implant failure.
Invest in the Best Today
Whether you've lost one tooth, multiple teeth, or an entire arch, don't settle for anything less than the best. Your dentist will create the personalized plan you need to rebuild your smile using the most successful solution available.
About Dr. Brett M. Pantera
Dr. Pantera earned his dental degree from the University of Connecticut School of Dentistry and has completed advanced education in general dentistry, emergency dentistry, and dental implants. He is a member of both the American Dental Association and the Academy of General Dentistry. Contact our office today to schedule your consultation to find out if dental implants are right for you.