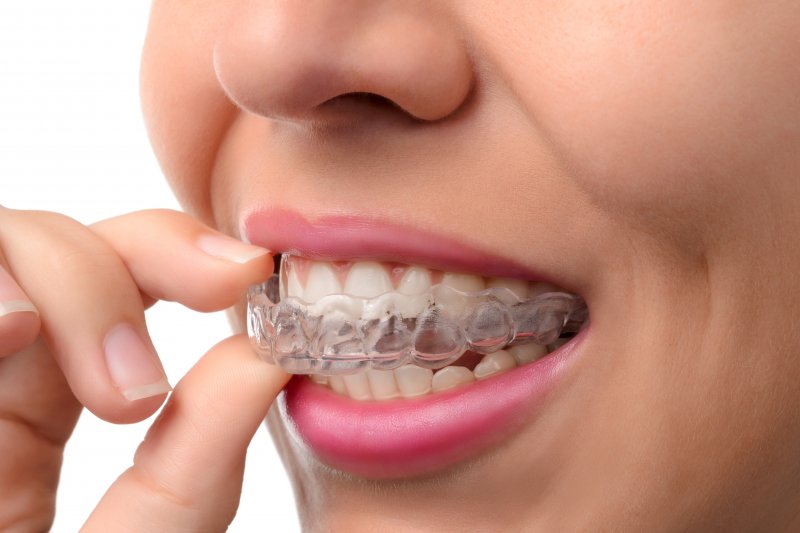 Invisalign is remarkably low profile, so you probably won't even feel them when you close your mouth. That's a game changer for many people, because the discomfort of traditional braces may be the thing that they dread most about orthodontic treatment.
That said, whenever you first start Invisalign treatment, or if you switch to a tighter aligner, you might experience a little bit of aching as your teeth start to move. If you're looking for good ways to deal with that, here are a few things you can try.
Use a Cold Compress
This works as well for toothaches as for anything else; take a bag of ice, wrap it in a towel, and then place it on your cheek until the pain subsides. However, be careful that the cold doesn't make your aligner constrict, as that can make the discomfort even worse.
Ask for Modifications
Sometimes, an aligner isn't designed properly, leaving a little bit of excess material behind that can rub against your mouth. You can always ask your dentist for a modification if your aligner doesn't fit you correctly.
Pain Medication
This one is maybe the most obvious, but taking some medication can make switching to a new aligner a lot more bearable. Over-the-counter pain relievers should be plenty, and taking it a little bit before you switch your aligner will ensure that it's kicked in before the pain does.
Switch Aligners Before Bed
You're likely to feel the most discomfort within the first few hours of switching to a new aligner, so swapping it out right before bed means you'll probably sleep through the worst of it. If you worry that the discomfort will make it hard to sleep, talk to your doctor or dentist about taking a little bit of melatonin or allergy medicine to help you.
Dental Wax
Many times, Invisalign aligners are paired with attachments that can make them more effective. Sometimes these attachments rub uncomfortably against the lips or cheeks. Balling up a piece of dental wax and placing it on the attachment can stop this from happening.
Keep these tips in mind, and you should be able to make it through the discomfort of switching to a new aligner with no sweat.
About Our Practice
At D'Andrea and Pantera Family & Cosmetic Dentistry, we're proud to have earned the trust and respect of our patients. Whether you're trying to straighten out your smile or just need a simple checkup, we have the skills necessary to help you. With four experienced dentists on staff, we're confident we can get you to the smile of your dreams.
If you have any questions about taking care of your clear aligners, we can be reached at our website or by phone at (203) 288-0951.