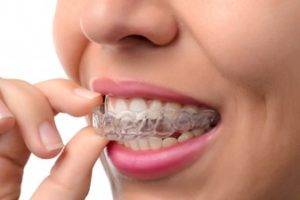 Your Invisalign treatment in Hamden is nearing its end, and your teeth are almost as beautiful as you'd hoped they'd be! But even with a symmetric smile, you will still need to protect your smile. This is why your dentist will provide you with a retainer. Keep reading to find out how long your Invisalign aftercare will continue and how to protect your new retainer.
Your Post-Invisalign Aftercare Plan
A retainer is designed to help keep your teeth in their new positions. Depending on your unique dental issues, your dentist will likely recommend wearing your retainer for 12 to 22 hours each day, every day for 3 to 6 months. When this time period has passed, you may be approved to only wear your retainer only at night for about 12 months. After a year, your dentist may recommend wearing your retainer between 3 and 5 nights per week for the rest of your life. You've spent thousands of hours gently moving your teeth in order to help you achieve a straight, beautiful smile. The last thing you would want is to have to repeat an orthodontic treatment simply because you didn't wear your retainer.
The Consequences of Not Wearing Your Retainer
Invisalign can provide incredible results that include correcting an overbite, underbite, crossbite, an open bite and more. But once your treatment is complete, your teeth can drift out of place. Wearing a retainer over a specified period of time helps your teeth to settle into their new positions. But even after your teeth have settled, gradual shifting can still occur. This can be caused by actions as simple as chewing.
How to Care for Your Retainer
Vivera clear plastic retainers are custom-designed specifically for your teeth, just like your Invisalign aligners. They also look very similar to your Invisalign trays, but they're used to keep your teeth in position rather than moving them. You will care for your retainers just like you cared for your aligner trays. You can clean them using a denture brush and non-abrasive toothpaste, rinse them with warm water, and soak them in diluted mouthwash or a denture cleanser. It will also be important to remove them before eating or before drinking anything other than water.
Invisalign is designed to straighten your smile, and your retainer is made to preserve those results. After spending as much time you have to align your teeth perfectly, protect your hard work by wearing your retainer!
About the Practice
The team of dentists at D'Andrea Pantera Family & Cosmetic Dentistry is dedicated to providing all patients with compassionate, top-quality dental care. Drs. Ronald D'Andrea, Robert Pantera, Kevin D'Andrea and Brett Pantera offer a wide range of dentistry skills and knowledge to help the citizens of Hamden achieve the healthy, beautiful smiles they deserve. If you have questions about your Invisalign treatment or your after-treatment care plan, contact the office at (203) 288-0951 or visit the website to schedule an appointment today.