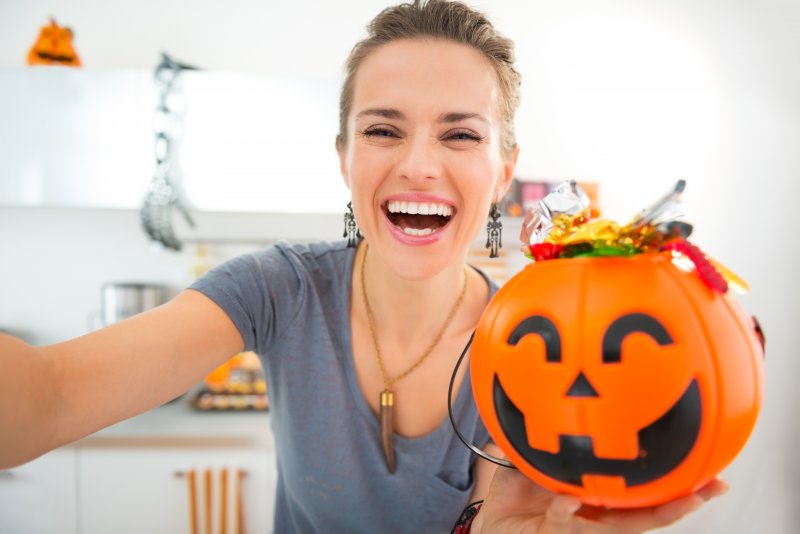 The end-of-the-year holidays are always exciting, but each of the celebrations has a hidden cost. Thanksgiving travel costs add up, Christmas means buying gifts, and Halloween takes a toll on your teeth. If you're a parent, then October is all about managing your child's sugar intake. You want them to have the best holiday possible, without giving your dentist extra headaches come November. Plus, if we're being honest, it can be easy for adults to overindulge this time of year too. Fortunately, it only takes a little bit of planning to make sure that your family has a great Halloween without unwanted cavities. Here are three tips to help you do just that.
Tip #1: Control the Amount of Candy you Have Around
Controlling the number of sweets in your home is a battle on two fronts. On the one hand, your child will be trick-or-treating, bringing home literal buckets full of the stuff. On the other, you'll probably be buying candy to hand out to the other neighborhood kids. That probably comes in a massive bag that you won't be able to get through in one night, meaning you'll have leftovers to contend with.
The battle might seem unwinnable, but here's something you can try to address both issues: instead of candy, have small toys you can hand out to kids on Halloween. These can be bought in bulk at any dollar store or ordered online. Then, set up a system for your child to trade pieces of candy for some of those toys, or maybe one bigger toy that they've been asking for. Talk to your family and see if this compromise might not solve your excess sugar issues.
Tip #2: Swap Sticky Candies for Melty Ones
Sticky and hard candies tend to be the worst for your child's teeth. That's because the sugar from these sweets sits in the mouth for an exceptionally long time, feeding the bacteria that live there. Sour candies are especially problematic as they're typically covered in crystals of citric acid, which can also corrode your teeth.
Chocolate is an excellent choice this Halloween because it tends to melt in the mouth quickly, allowing it to be washed away. Dark chocolate in particular is great for your family's teeth due to its lower sugar content. Try and steer them in that direction if possible.
Tip #3: Maintain Your Teeth
Any candy is fine in moderation, so long as you pair it with good dental hygiene. You should continue to brush twice a day, floss daily, and rinse with mouthwash after meals. You should also brush your teeth after eating candy but wait 30 minutes before doing so. Your mouth takes that long to reset its pH levels, so if you don't wait your acidic saliva could wind up eroding your enamel as you brush.
Finally, if you've had a little too much sugar this Halloween, November is a great time to schedule a dental cleaning. A professional will be able to wash out all the little crevices in your mouth that you can't reach with brushing alone.
October doesn't have to mean cavities and tooth decay. If you remain focused on your oral health, you should be able to make it out all right.
About Our Practice
At D'Andrea and Pantera, DMD, PC, your family's comfort is our top priority. We're a family-owned practice with a strong code of ethics that informs every decision we make about our patients' treatment. Using advanced medical technology, we can supply the most comprehensive screenings and check-ups possible to catch problems before they occur. If you have any questions about how to care for your family's teeth this Halloween, we can be reached at our website or by phone at (203) 288-0951.